Want to know our best tips for saving money on guinea pig supplies? Now that we've had our guinea pigs for a while, we realize that we probably spent way more than we needed to on guinea pig supplies.
And we began to wonder: What are some ways to save money on guinea pigs?
Here are 5 tips for saving money with guinea pigs:
Compare prices (we love Amazon for the best prices and fast shipping)
Buy in bulk
Feed your leftover fruits and veggies
DIY your guinea pig cages and toys
Use a reusable fleece bedding
Caring for your guinea pig can get expensive. That's why we came up with the following 5 tips for saving money on guinea pig supplies:
Compare prices
This may seem like an obvious tip, but when we were in the beginning stages of planning for our guinea pigs it was easy to get caught up in buying all of the fancy commercial items that we found in our local pet store. 
My kids wanted to buy everything from fancy beds to expensive toys.
We shopped around and found that Amazon has the best prices and since we are Amazon Prime members we don't have to wait weeks for our items to arrive. Everything was on our doorstep within one to two days!
Try Amazon Prime 30-Day Free Trial
A great time and money-saving tip is that you can schedule recurring shipments on Amazon of items that you will need to re-order such as Vitamin C, guinea pig pellets, hay and bedding.
Buy in bulk
Guinea pigs eat A LOT of hay. This makes sense since hay makes up most of their diet, but seriously it's a lot. 🙂
In order to save money, we started buying our hay in bulk. 
We really like the quality of this Orchard grass hay that we found on Amazon. Click here to check the price.
To keep the excess hay fresh, we found a variety of plastic tubs (on Amazon of course) to store our guinea pig hay up off of the ground.
Feed your leftover fruits and vegetables
Your guinea pig can eat small amounts of fresh fruit and vegetables every day.
We quickly learned that we could feed many leftover fruits and vegetables to our guinea pigs that we also fed our family.
Carrots, broccoli, peppers and romaine lettuce are among both our family and guinea pigs favorites.
RELATED: CLICK HERE to learn what to feed your guinea pigs.
DIY your guinea pig cage and toys
The first cage we purchased was this one that we found for a great price on Amazon. Click here to check the price.
It was the perfect size cage for our guinea pigs when they were little; however, as they grew we realized that we were going to need more space.
After some research we decided to build our own C & C guinea pig cage using wire shelves that we found really cheap on Amazon. Click here to check the price.
Our guinea pigs are so much happier now that they have room to run around and play.
You can also DIY chew toys for your guinea pigs.
In the beginning we bought a variety of commercial chew toys, but soon realized that many homemade chew toys are just as good for our guinea pigs.
Here are some items you may have around the house that you can give your guinea pig to chew:
Toilet paper rolls
Paper towel rolls
Egg cartons
Cardboard boxes
Use fleece bedding
Guinea pigs poop a lot and we found out that they will need their bedding cleaned quite frequently. 
After considering all of the bedding options available for our guinea pigs, we decided to use fleece liners because they are reusable and in our opinion not as messy as wood shavings. 
We line the bottom of the cage with puppy pads to absorb the urine, place an old towel on top of the pads, and finally top all of that with fleece. 
Fleece bedding will have to be changed a bit more frequently, but it is as easy as shaking out the fleece and throwing it into the washing machine.
A time saving trick that we have learned is to place multiple layers of puppy pads, towels and fleece bedding in the cage so all we have to do is remove the top layer. This makes cleaning time so quick and easy!
You can find a variety of fleece on sale at your local fabric store. Or you can invest in a 3-in-1 product like Guinea Dad's fleece liners.
There are many benefits to Guinea Dad's fleece guinea pig cage liners:
CLEAN & DRY – Moisture and mess wick through the fleece layer into absorbent bamboo fiber. The waterproof bottom means pee stays put, so owners can relax!
EASY TO USE – No more spilling wood or paper bits, no layers and layers of DIY fleece. Instead of going underneath the liner, piggies use their natural instinct to burrow in the pocket, and stay happy!
HEALTHY & NATURAL – Prevent the most common guinea pig diseases, like bumble-foot, URI's, and urinary infections. Guinea Dad liners are anti-bacterial and dust-free.
PROTECT THE EARTH, PROTECT YOUR BUDGET – Wood and paper bedding costs pile up, but our liners are long-lasting. Use the money saved from vet bills and disposable bedding costs to make your guinea pigs happy!
Another tip that we have learned is to use an odor control spray like this one we found on Amazon to keep the odor under control.
What is your best tip for saving money with guinea pigs?
We hope you found these 5 tips for saving money on guinea pig supplies helpful.
Do you have a money saving tip for us? Leave us a comment below and let us know.
xo,
Theo and Remmy
---
Save for later > Pin it!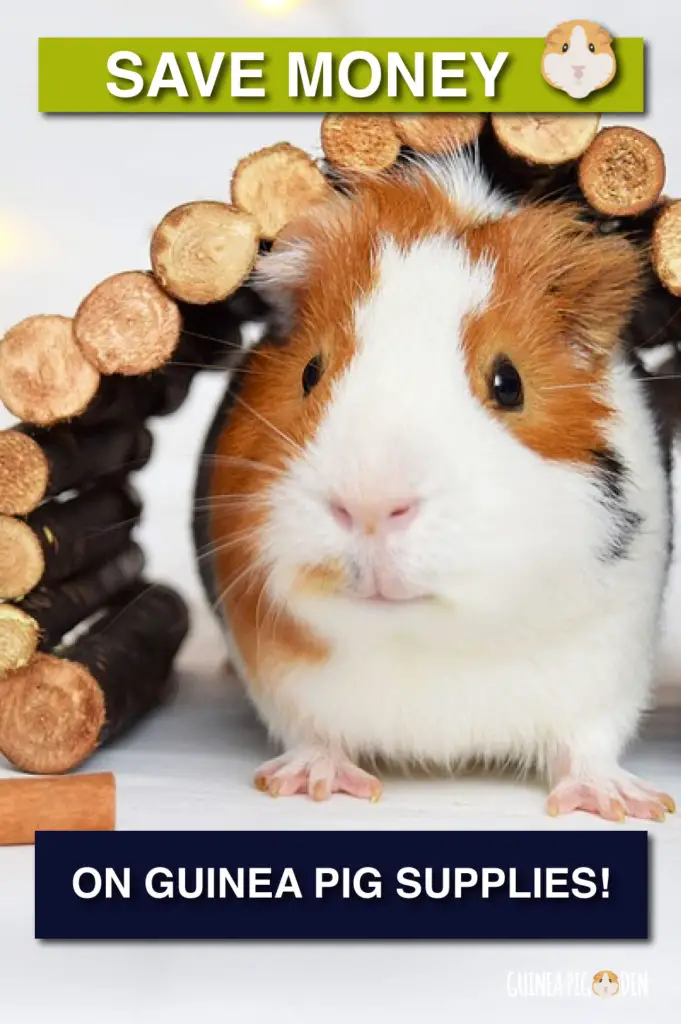 ---